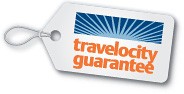 I booked my upcoming trip to St. Croix online through Travelocity.com. When I travel, I usually make reservations for flights and hotels separately since I tend to find more affordable prices when booking with the airlines and hotels directly. This time, though, I found a vacation package on Travelocity that worked out to be cheaper than any other option I could find anywhere else, including Expedia.com, Orbitz.com and the individual airline and hotel sites. So, feeling incredibly lucky and oh-so-proud of myself, I entered my credit card number and confirmed my trip reservation! I giggled with glee over the fact that in just a few short weeks, I would be on yet another island and I went about the rest of my day with a silly grin on my face…
…at least until I decided to go online to check prices again that evening, that is.  This time, when I was viewing Expedia.com search results for St. Croix vacation packages, I happened to see a note near the top of the page that said "Save $300 instantly on your flight+hotel package to St Croix". My heart immediately sank upon thinking about the $300 dollars that I could have saved. Why hadn't I seen that note before? Did I just miss it or was this a new promotion that had shown up during the day? (Details: "2009 St. Croix Fantastic Flight Promotion".)  Then I remembered hearing something about a Travelocity Low Price Guarantee, so I decided to try and get a refund of the difference between these two prices.  Below, I've listed the steps that I took to take advantage of the guarantee and to get some money back.
Step 1: Confirm The Lower Price
At the Expedia.com website, I chose the exact same flight and hotel combination for the same dates as my Travelocity trip to see what final price Expedia  would come up with.   All details of the lower-priced trip must be identical to that of the one you booked with Travelocity (same dates, flight numbers, seat class, hotel room class etc.).  It turns out that the cost before the $300 discount was a bit higher than what I paid at Travelocity, so when the save-$300-promotion-code was applied at Expedia, the difference in price was only about $150. Still, though, $150 can go a long way towards covering meals, rental cars or any other expenses during the trip so I figured that it was worth it to go forward with sending a refund request to Travelocity.
Step 2 : Double-Check the Terms of the Guarantee
The terms of the Travelocity.com's Low Price Guarantee state that If you find a Qualifying Lower Rate within twenty four (24) hours of your booking, we will provide you with the following per booking:
* One $50 Promo Code for a future "Good Buy" Hotel or Flight + Hotel vacation package booking on Travelocity and
*A refund of the difference between the price you paid through Travelocity and the Qualifying Lower Rate.
The important things are that a "qualified lower rate" has to cover exactly the same trip components as the one you paid for at Travelocity, it has to come from an "acceptable" US Based travel website, you must submit your refund request within 24 hours of your original booking, and a Travelocity.com representative must be able to reproduce the lower price that you found. (Check all of the fine print here.) Since I had found a lower rate for the exact same flights, hotel and dates (booked together as a package on Expedia.com) as my Travelocity vacation package, I was eligible for a refund of the difference AND $50 off of a future trip!
Step 3: Submit A Refund Request
The process of submitting a refund request to Travelocity is actually very easy and only requires that you fill out a simple form with the trip details, the website on which you found the lower price, and the price that you were quoted. Even though it doesn't ask for it, I entered the Expedia.com promo code that I used in the website name box. So my "Lower Price Website" entry contained the following: "Expedia.com promo code STXFF".)  I was most worried about a Travelocity representative being able to reproduce the lower price since air fares tend to fluctuate a lot even within one day, but I was hoping that as long as they could get a price somewhat close to the one I submitted, I would be ok.
Step 4: Get A Refund!
Less than 24 hours later, I received an e-mail from Travelocity's "Price Guarantee" representative indicating that a refund for $150 had been processed! I was very excited and pleased to see that Travelocity came through with their Low Price Guarantee, as I admit that I was a bit skeptical beforehand. A short time later, I also received a promo code for $50 off of a future Travelocity.com vacation package booking (that comes with it's own set of restrictions, but I believe that it's still usable). I must say that I am impressed with how smoothly the process went and it has left a good impression of Travelocity within my mind.
While I was looking for the "Low Price Guarantee" on Travelocity's site, I also noticed that they offer a number of different guarantees when you book through their website. One of those promises is that they will contact you before you leave should a hurricane threaten your trip and they'll help you to rearrange your travel plans at as little cost to you as possible! They will waive any Travelocity change cancellation fees but hotels and airline fees may still apply. I'm hoping that I won't be needing any of that coverage for my St. Croix trip, but I suppose if I do, I'll be letting you know how that goes too! :)
Other sites like Expedia.com and Orbitz.com also have similar guarantees, but check their sites for specific details. Overall, it's a good feeling to have that peace-of-mind that these companies' promises offer, so I am, so far, very happy with my online booking experience with Travelocity!